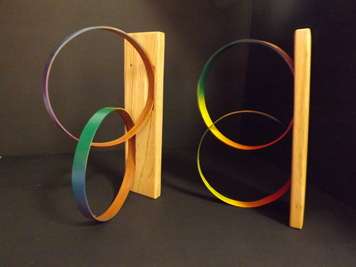 If Not Now, When?
These rings represent those friends who are finally allowed to live their lives with freedom.
We don't understand the reluctance, in Ohio, to allow freedom to all.
Price $125.00 Either rendition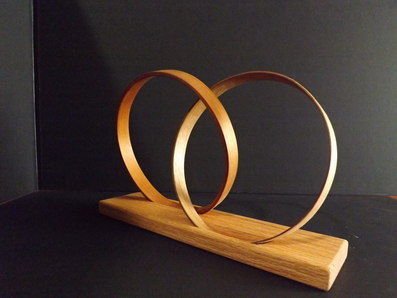 Commemorative Rings
These interlocked rings are produced in various
species of wood, including walnut, oak, ash, and cherry.
A perfect gift for newly-weds, fifth year anniversaries (wood) or any other special occasion.
Surprisingly strong for their thickness. Can easily be removed from the stand, yet will stay in place, even upside down. (see above)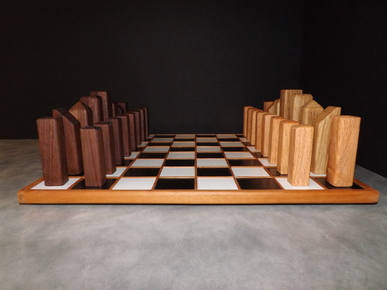 'Metropolis' Chess set
This set has been designed for 30 years... in my head. It is now available.
Each piece is sanded to 1000 grit sandpaper. A food grade oil is the only finish applied. Over years of play, oils from the fingertips will absorb into the wood and highlight the grain even more.
Sit back and ponder your next move.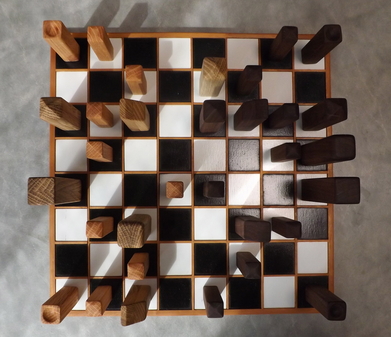 As you play, the meaning of the name 'Metropolis' becomes apparent.
It is similar to peering down upon the city while flying into LaGuardia.
As the battle begins, the
skyline changes...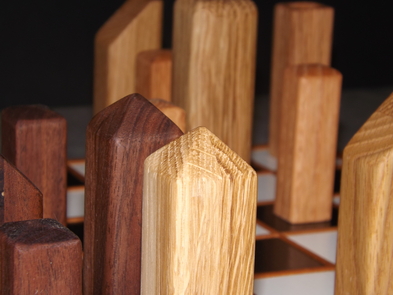 The details, impressive...
The grain, beautiful...
The board, classy...
The price...
229.95 complete